inspire2coach
inspire2coach runs programmes at more than 30 tennis facilities across the United Kingdom; our coaching team is one of the largest in the UK.
Our mission is to inspire tennis players and coaches to be the best they can be, by sharing our expertise, experience and standards of excellence. We are committed to offering a programme that is active, fun, safe and educational; while always helping our players to develop the sound basics of tennis.
To successfully deliver our unique club programme services we partner with our client-clubs to promote both a coaching programme and the club's membership.
We are based is at the University of Warwick Tennis Centre in Coventry. To learn more about inspire2coach please visit our company web site.
---
Contact us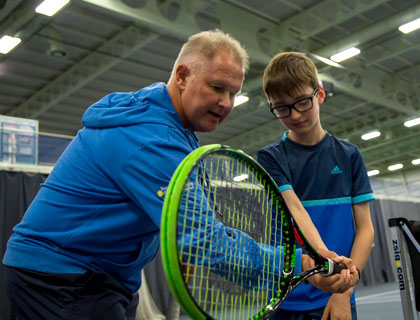 i2c Team
We have a dedicated administrative and support staff for each of our areas, so it's easy for you to get hold of friendly help and support for any of any club programmes.
Mel Short
Area Manager and She Rallies Ambassador. Mel manages several of our clubs and also spends time on court coaching and running our tots courses for tennis coaches.
Becky Webb
i2c's Coventry Area Manager. Runs our tennis programmes at Beechwood LTC, Rugby LTC & Nuneaton LTC.
Josh Price
Our Shropshire Area Manager, looking after: Ludlow Castle Tennis Club, Boughey Gardens Tennis Club, Wem Tennis Club, Hollies Tennis Club, Calverhall Tennis Club, Tilstock Tennis Club and Lilleshall Tennis Club.
Simon Haddleton
Director of Tennis at The Shrewsbury Club where he is responsible for overseeing the coaching programme and members of the club.
Chris Cash
Tennis Manager at the University of Warwick in Coventry managing programme participation; an LTA Level 5 Master Performance Coach and LTA Tutor with a wealth of experience in performance, management and disability tennis.
Nigel Hunter
Works closely with our network of tennis clubs to improve the standard of tennis, increase what our clubs offer and raise participation levels.
Richard Marklow
Unstoppable super coach and founder.