Club programmes
We have a course to suit the needs of all players!
Through our extensive network of partner clubs, we offer tennis programmes at venues across the UK to suit all ages and abilities.
Are you ready to get playing? Find your nearest club and book your sessions. If you're still deciding, then sign up to Try Tennis for FREE!
---
Find a club
Junior tennis
Focus group coaching
Our unique, small groups have a maximum of 5 children; so every child can enjoy the energy of a group, while receiving a high level of focused attention! The small size also makes it possible for us to provide individual coaching within the group to maximize your child's improvement.
Sessions are for 45 or 60 minutes and run for 45 weeks of the year.
Suitable for children of all ages, tots (3-5), mini-red (8U), mini-orange (9U), mini-green (10U) and juniors (11+).
Training groups coaching
Training groups have 6-12 children and provide a fun and exciting way for budding tennis stars to learn and practice their tennis skills! Our groups keep kids involved, engaged and active while developing their technique and tactics and building their athletic skills.
Sessions are for 60 or 90 minutes and run for 45 weeks of the year.
Perfect for tennis beginners and beyond; suitable for children of all ages, tots (3-5), mini-red (8U), mini-orange (9U), mini-green (10U) and juniors (11+).
Individual tennis coaching
Children of all ages will benefit from the one-on-one attention of a qualified tennis coach.
Junior performance squads
Where there is a need, we bring our talented juniors together to develop their skills and strategy with other children who are performance-oriented.
Performance coaching
Children looking to compete in higher-level national and international tournaments can enroll in our performance coaching with specialised, performance, coaches.
---
Find a club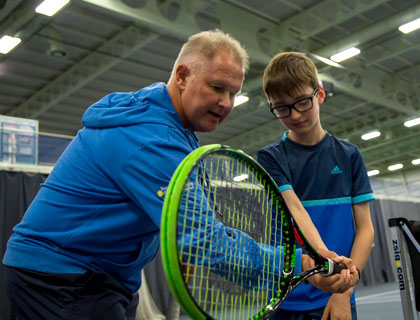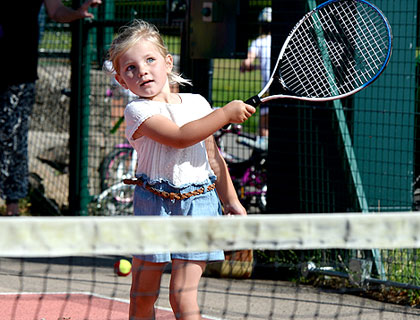 School holiday camps
There is no need to be stuck for a fun, active way to keep children engaged over the school holidays!
Suitable for children aged 4-16 our camps introduce children to the sport of tennis and their local club.
We offer both full day and half day tennis and sports camps. Camps are run by our qualified tennis coaches.
---
Find a club
Adult tennis
We have a full programme of tennis for adults; catering for adult players with different needs and different levels of experience.
Players have fun with groups of like-minded people! Our qualified coaches take adult players through specialised programmes that enable people to improve their game, train and get fit.
Focus group coaching
Coaching sessions for small groups of up to 5 players. Great for players wanting to work on a specific area of the game. Focused, fun and active!
Cardio Tennis
A fun, tennis-based workout to music! Suitable for all standards of player.
Tennis Xpress
A class using slower balls and aimed at getting players to grips with the basics. Ideal for new players or those a little rusty.
Multi-Mixer
Our games based coaching session. We start with a session tip and then play lots of games to practice all shots… and have some fun, of course!
Drills Challenge
A fast paced drill session with two practices from the baseline, two related to attacking the net and two serve & return drills. A great way to practice the whole game!
Doubles Builder
A tactical session where, week by week, our coaches build up players' tactical knowledge of the game.
Team Training
A drills & tactical lesson aimed at improving doubles play for Club Teams.
Individual Coaching
Individual lessons for players who want specialised one-on-one attention. Our coaches tailor each session around the player's needs.
---
Find a club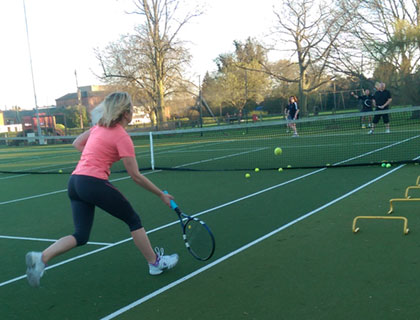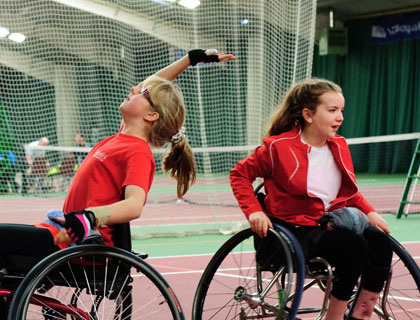 Disability Tennis
Our team includes experts in disability tennis including deaf tennis and wheelchair tennis coaches.
Our active tennis programmes at both The University of Warwick and the Shrewsbury Club offer wheelchair sessions for both beginners and advanced competition players.
At the University of Warwick we also have sessions for players with learning difficulties.
We are keen to offer sessions to all players and can discuss individual requirements with any player who wants to play tennis.
---
Find a club
i2c Behaviour Policy
The aim of the policy is to promote learning and enjoyment in tennis in a safe, inclusive and organised environment.
---
Read more about our policy